Oxted House is a new build 3 bedroom home in the Tandridge district of Surrey. This property is to be situated on the disused tennis courts to the rear of the Clients' existing dwelling on the site. The design works sympathetically with the site levels and existing tree line to establish the new home into its setting. 
The brief from the clients was for a new, energy efficient and light filled home. The Clients enjoy spending time in their garden and it was important to connect the new home with the garden space, harnessing key views out and using the orientation to connect interior and exterior spaces.
Our design process utilised orientation, views and materiality to inform the design of the new home. The orientation has been set to allow summer and winter sun to fall on the southern facing terraced patio, brise soleil have been incorporated to ensure the living space does not over heat in the summer. The orientation floods the master suite with sunshine throughout the morning and evening, providing double aspect views to enjoy throughout the day.
The roof pitch is set low to a storey and a half in order to nestle the property within the site context and allow key views to be framed. The kitchen has horizontal slot windows and the staircase has a double height window looking out towards the woodland beyond. The open plan living area opens out to the external terrace forming a seamless connection with the garden.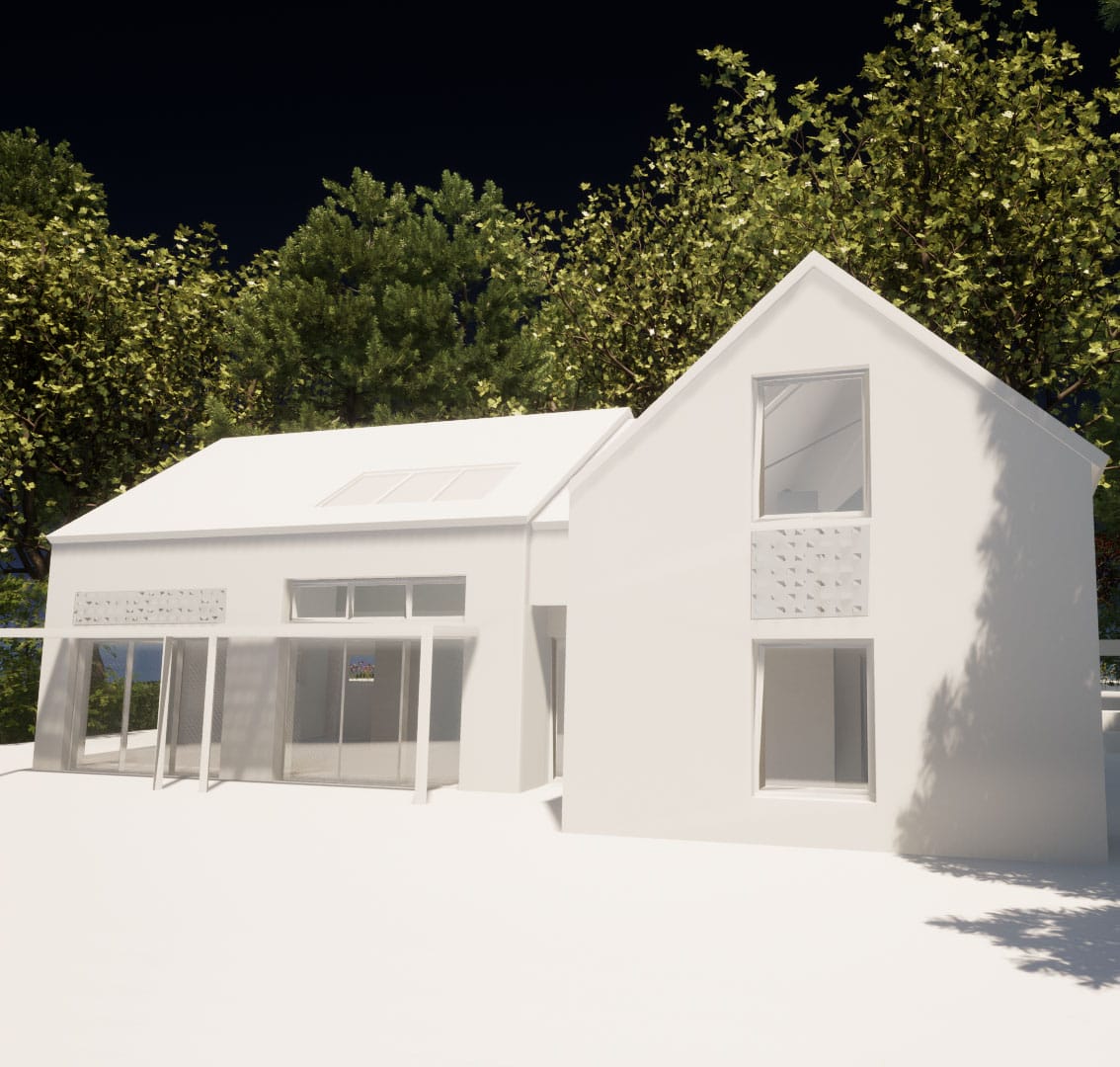 The building is designed using a fabric first approach and the wall, floor and roof build ups are detailed with low u-values and high levels of air tightness in mind. The dwelling's heating and hot water needs will be met by an air source heat pump, with under floor heating throughout. A MVHR  (mechanical ventilation heat recovery) system will provide the necessary ventilation to the air tight property. During the detailed design stage, all key junctions are drawn and developed to eliminate thermal bridges and form an energy efficient home. 
This project is starting on site shortly, we will keep you posted on progress.