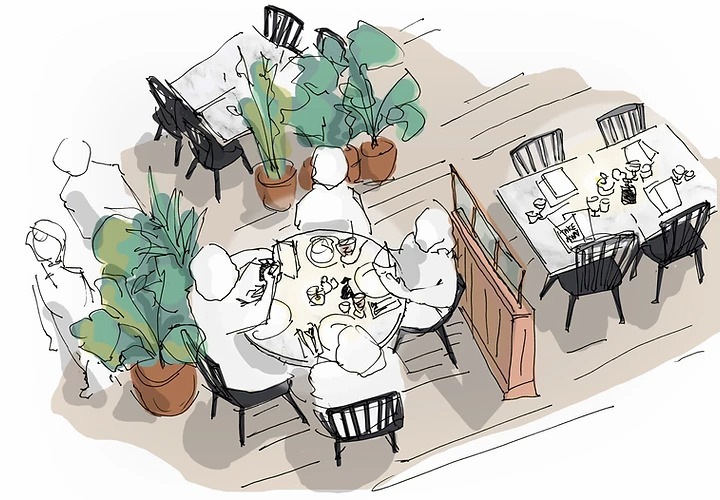 Restaurants, cafes and drinking establishments have a cultural imprint on all of us, they are places of decadence, excitement, exploration, connection and community. With this concept turned on its head, we have been asking how restaurants, cafes and bars can adapt their existing spaces to cater for a new way of socialising. At this time of economic uncertainty, solutions will need to be quick and inexpensive to ensure businesses can react rapidly and effectively as soon as the government provides a clear exit strategy to the current COVID-19 lockdown.
Maintaining ambience while distancing seating
We know it is likely that social distancing regulation will request dining spaces to be significantly more separated than we are used to. The challenge will be how to establish this distancing without restaurants feeling empty and lifeless. Breaking up the voids will be key: introducing propping or planting between tables, dimming lighting and introducing candles to dining areas brings back intimacy and ambience.
Booth seating options are going to be most popular for the security and closeness they offer. This intimacy can be created in other areas of a restaurant dining space too by introducing loose partitions or screens. Previously popular communal benches can be swapped out by two-seater table which allow more flexible arrangements for smaller or larger groups.
Self-sanitation of your dining space
Put customers in control of their hygiene by giving them access to sanitising hand gel on tables. Making antibacterial wipes or sprays available would allow individuals to sanitise their tables themselves for an extra sense of security. Disposable menus in recycled (and recyclable) materials can be changed between covers.
Adjust your offering
Introducing or further developing your takeaway trade will be key to maintaining profitability. Making sure customers know about delivery and take away options will help to ensure kitchens stay busy even if capacity is reduced in the immediate restaurant environment.
Further adjustments can be made to food offerings too both through the suspension of "high risk" meals such as sharing plates and by introducing new dishes such as pushing immune boosting ingredients.
The lock down has been a great time to pause and reflect on your offering, thinking of ways to create online content, optimise your website and social media and plan that eagerly anticipated comeback! This new focus should not stop, now you can start to communicate and reassure those potential clients who are unsure about leaving their home. When your doors open take the time to share behind the scenes, recipes and how you are re-emerging, use the gradual exit of lock down to your advantage , trading slowly and reaching new audiences.
Communicating your strategies
We will be all looking for reassurance in these uncertain times. Communication of what steps you have put in place to minimise infection risks will help to put your customers at ease. For example, what will be cleaned between table turning? Tables, chairs, menus and condiments? How often are bathroom areas being cleaned? What steps are being taken back of house?
External menu boxes can be supplemented with hygiene statements and disposable/recyclable leaflets on tables can outline procedures being carried out both front and back of house. All messages should be put on websites and social media to ensure you are reassuring your clients across all platforms. Customers will be looking for repeat experiences but only when fully satisfied that standards are being met so ensure these strategies are followed to the letter. This is likely to include staff being seen to be using PPE appropriately throughout their shift.
Make the most of tech solutions
A larger investment solution could include establishing contact-free ordering options. Digital menu app systems allow customers to order from the table without needing to encounter serving staff. Not only do these additions provide a reduction in contact levels but they can also assist in up selling with the addition of high-quality food images to incise the customer. We found this article that has some interesting pros for introducing an digital menu, it was written Pre COVID so the top slot of social distancing is not included! The Restaurant Ordering System
The Stickland Wright interiors team have a wealth of experience with restaurant design and space planning.
Please do contact us if you need help planning the best use of your space within these new social distancing frameworks.